sealed ceramic bearings are more and more popular in recent years,they have many advantages compared with ordinary steel material bearings,such as acid and alkali resistance,corrosion resistance,high temperature resistance,etc.There have a customer from Germany always buy the ceramic bearings from us,they have a branch company in India,the india company also buy the ceramic bearing from our company each year,because produce the ceramic material need long time,usually they place order from our company 2 months in advance,This is some introduction for sealed ceramic bearings: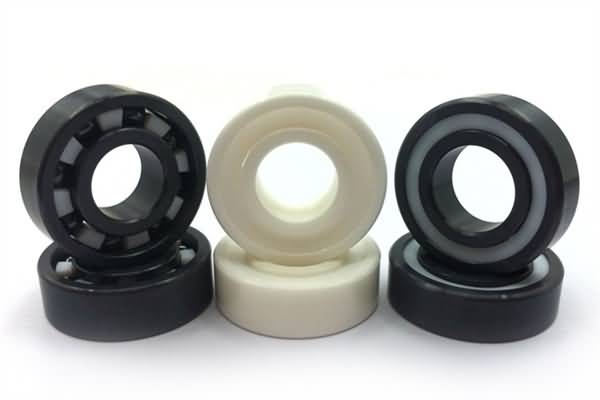 Material for sealed ceramic bearings
Main material for sealed ceramic bearings is ZrO2,Si3N4 and Sic.Ceramic material have many advantages:because ceramic almost afraid of corrosion, so the ceramic rolling bearing is suitable for the corrosive fluids in harsh conditions, the density of ceramic rolling ball is lower than steel and more much lighter weight, so the external ring spinning the centrifugal effect can be reduced by 40%, thus greatly extend the service life and ceramics affected by heat bilges cold shrink is smaller than steel, therefore, when bearing clearance must be permissible bearing changes in temperature is relatively severe working environment, due to the elastic modulus of the ceramic is higher than steel, when the stress is not easy to deformation, thus to improve work speed, and achieve higher precision.
Cage types for sealed ceramic bearings have polytetrafluoroethylene, nylon, polyetherimide, zirconia, silicon nitride, stainless steel or special aviation aluminum to expand the application surface of ceramic bearings.Different cage material are suit different use condition.
Application for sealed ceramic bearings:
With the continuous progress of processing technology and the improvement of technological level, the cost of ceramic bearings has been decreasing.It has been applied in a small range of high, fine and pointed fields in the past,and gradually extended to various industrial fields of the national economy,the price for sealed ceramic bearings is also more favorable.They are widely applicable in aviation, aerospace, marine, petrolium,chemical, mechanical, automobile, motocycle, metallurgy, electronics, textiles pumps, pharmaceutical,etc.
If you need sealed ceramic bearings or any models of bearings, please contact me!
Contact: Leon
Email: nsk@zyslbearing.com
Skype: lh19881023
MP/Whatsapp: +8615098916271
Wechat:leon15098916271