Track roller bearings v groove is W type roller orientation system of the main parts in,widely used in industrial robot,cutting equipment,mobile guide rail,etc.
For the two outer wheel had 90 degrees of V W shaped outside surface.Can be used in the lateral side or with 90 degrees in V type or the V type guide rail, also can use side in fit with cylindrical guide adaptation.The wheel had double row angular contact ball bearing internal structure design and thickness of the outer lane,make the bearing capacity of the roller has higher.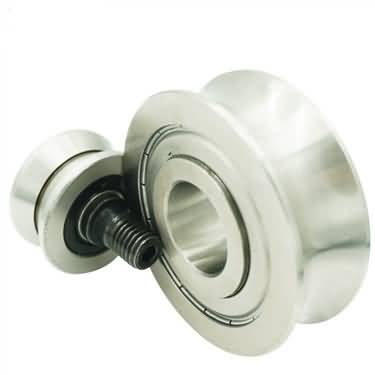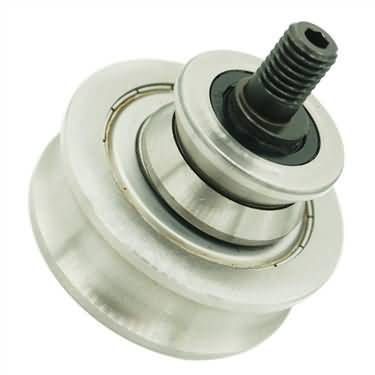 Track roller bearings v groove is usually a fully loaded roller structure.The part of the bolted shaft raceway is quenched.To avoid stress concentration,the outer surface of the thick-walled outer ring of the roller is curved.The outer ring has two integral flanges and the axial direction is guided by the roller.The head of the bolt shaft and the side retaining ring installed by the press provide the outer ring with axial support curve roller bearing for the outer ring,which is suitable for heavy radial load.Since the outer ring is guided by the roller in axial direction,the bearing can also bear heavy axial load and allow relatively high speed operation. However, as it is full loaded with rollers, the grease needs to be replenished frequently.The lubricant can be added through the holes at both ends of the core shaft and the core shaft body.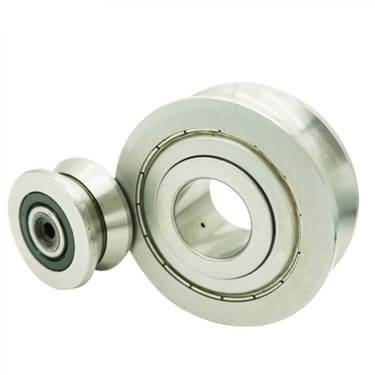 LV (RV) series track roller bearings v groove can be widely used in cylindrical guides or 120 degree V guideways. Unlike LFR series rollers, LV series bearings are adaptable to the dimensions of the guide rail.Each size can be fitted with a larger diameter range, which can be widely used in heavy rail, mobile equipment, straightening machinery and so on.
If you need track roller bearings v groove or any models of bearings,please contact me!
Contact: Leon
Email: nsk@zyslbearing.com
Skype: lh19881023
MP/Whatsapp: +8615098916271
Wechat:leon15098916271