u groove rollers are made of bearing steel or stainless steel, processed by heat treatment and precision grinding, and filled with life-saving, multi-purpose grease.
● LFR series u groove rollers bearings are widely used, economical and practical products in linear guide rollers, which can be adapted to cylindrical guides, with stable operation, small error, low operating noise and high operating speed.
● The contact between the roller and the guide rail is two-point 60-degree contact, which has good contact performance and low running resistance, so as to achieve a relatively long service life.
● The roller adopts the internal structure design of double row angular contact ball bearing and the thickened outer ring, so that the roller has a high load-carrying capacity. The u groove rollers bearing is equipped with an eccentric wheel and a concentric shaft and is easy to install.
● u groove rollers adopt metal dust cover (KDD) or rubber sealing ring (NPP) for dust prevention.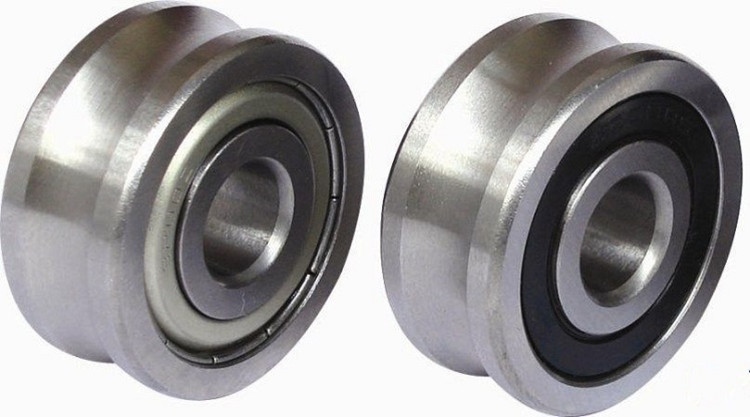 The roller guide system of the LFR series u groove rollers bearing has the following characteristics:
1. High allowable speed, low resistance, long life
The outer ring surface of LFR series u groove rollers is designed in a Gothic shape, so that when the roller is working, the roller and the guide rail form a two-point contact with an angle of 60 degrees. The friction resistance is small and the load is uniform, which avoids the installation of the roller during the work. And the stress concentration and boundary effect caused by manufacturing error make the guide rail system have the working characteristics of high speed, low energy consumption and long life.
2. Simple and convenient installation
u groove rollers bearing is equipped with eccentric shaft and concentric shaft, which makes the installation very convenient. Adjust the eccentricity of the eccentric guide rail roller bearing to obtain a suitable preload.
3. Smooth operation, small error, low operating noise
The accuracy of the roller shape, mature processing technology and strict quality inspection process make all the outer ring of the roller radial runout and the roundness of the working surface are good, so that the guide system has small errors during operation, stable operation and low operating noise.
If you need any brand bearings or any models of bearings, please contact me!
Contact: Grace
Email: ntn@llhbearing.com
Skype:+8618668903871
MP/Whatsapp: +8618668903871
Wechat:GraceXu1234